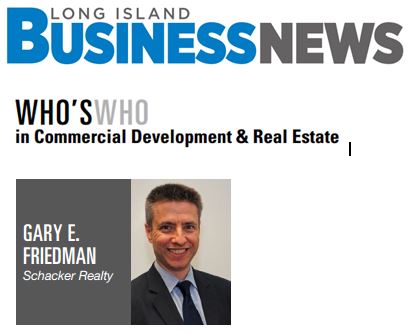 Gary E. Friedman is executive vice president and partner at Schacker Realty in Melville. A licensed real estate broker and instructor, Friedman has completed more than 160 industrial, office, laboratory and redevelopment transactions with diverse companies such as Frito Lay, LSC Development and Polygen Pharmaceuticals. Friedman is also an adjunct assistant professor at Hofstra, where he teaches the Real Estate Finance course in the evenings.

Friedman joined Schacker Realty in 2008 after a seven-year career at JP Morgan Chase, where he was a vice president on the Prime Brokerage team. Friedman quickly established himself in the real estate brokerage field and was awarded the 2010 Rising Star award by the Commercial Industrial Brokers Society and numerous Power Broker awards by CoStar Group.

In addition to the transactional side of real estate brokerage, Friedman is responsible for upgrading Schacker's IT capabilities to best in class status, and instituting corporate systems to improve the firm's management processes, training and accounting systems. He also oversees Schacker's training program, and often arranges visits for college students and recent graduates who are interested in real estate careers.

The office, industrial and retail sectors of Long Island's commercial real estate markets have taken dramatically different paths, Friedman said.

"The office market continues to struggle, as many employees accustomed to working from home during the height of the pandemic have found they prefer working remotely," he said.

"Companies report mixed results, but the end result is that despite a partial return to the office environment, demand for office space continues to shrink."

"Conversely, retail sectors, expected to be hit the hardest, have come out of the pandemic better than expected, largely by modifying the tenant mix with fewer conventional stores and a greater number of restaurant, entertainment and experience uses," Friedman noted. The industrial sector remains the strongest, with vacancy rates of approximately 3 percent and rising rental prices, Friedman said.

"Sale prices have leveled off, largely due to rising interest rates, but demand remains strong and supply low," he explained. "Several million square feet of new distribution space are under construction or awaiting approvals, but it is our opinion that there will not be enough demand to fill all of the new projects planned. This will result in a 2023 and 2024 oversupply of large, high-ceiling distribution center space. Most of these buildings are designed for 100,000 square feet or larger tenants and do not divide easily, so the easing supply will only be for larger users."

Friedman earned a bachelor's degree in computer science and economics and an MBA in banking and finance from Hofstra University.

Schacker Real Estate Corp. is one of Long Island's largest and most established commercial and industrial real estate service organizations. Founded in 1962, and headquartered in Melville, the company provides complete brokerage services in the industrial, office, retail, investment, and development sectors of the market. Over the past six decades, Schacker has completed more than 100 million square feet of commercial and industrial property transactions, representing a diverse client base of buyers, sellers, landlords and tenants.